EATS 2021 – Instructor is key to success
The Estrel Hotel Berlin hosted over 80 companies exhibiting and 700 delegates at the 19th European aviation training symposium.
While topics like regulation of training got important airtime, the importance of ensuring a solid pipeline of pilots into the system was a central them from companies like Airbus, Boeing and CAE.  Alongside this drive for ensuring supply of qualified and 'ready' pilots to sustain a return to full service and future growth, we heard several speakers highlight the role of instructors in pilot training.  How data can support instructors in delivering EBT (Evidence based training) was a central theme through many presentations.
Tipping point for sensor tech in training? 
For Vocavio it was a busy few days and were delighted to have Captain Conor Keeling (advisory board) join us on the booth. Conor has been tireless in providing his 'flying captain' perspectives to Vocavio. He is also a strong advocate of mentoring and coaching for pilots and fully sees the value of data in training.
It was really satisfying few days for the Vocavio team; conversations around data science and voice biosignals in training have moved from 'so what?' to 'how does it integrate?'
Its clear from our various conversations that unobtrusive technologies like eye tracking and voice analysis are attractive options for many, as the performance data output support instructors and provides insightful 'hard' data on non-technical skills. Digital transformation of training departments is set to accelerate further !
Thanks to all the airlines, OEMs and aviation technology innovators who took time to stop by our booth, your line of questions and feedback is incredibly helpful.  While many know this journey started in 2012 at Trinity College Dublin and its now 2021, its clear from visitors to our stand that a tipping point for sensor technologies in simulation and training has occurred.   We are looking forward to playing our part in advancing pilot training and equipping instructors with the latest data driven innovation to augment evidence based training programs.
For those that missed the Wednesday afternoon presentation by our VP Training Analytics, Conor McKenna, please see the link below;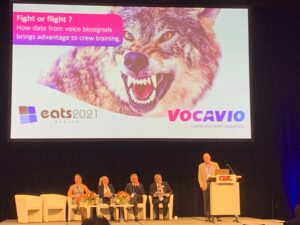 Datasheet for Civil training solutions